Poultry processing and packaging are critical areas of expertise for Slideways. We understand the function, and cleaning methods used in this market. We provide design assistance and material selection recommendations to help you minimize lead-time and maximize run-time.
Materials:
Applications:

Chain guides, belt guides, wear strips, custom parts, manifolds, wheels, pulleys, pin guides, cams, de-bone line tracks

Metal detectable UHMW (detect plastic in food before it leaves the plant)

Higher precision guides, flite bars, de-bone line tracks. pins

Sprockets, cam tracks, structural components

Seals and high temp. bushings
Examples of Slideways Products in Poultry Applications:
UHMW tracks for plastic chain and plastic modular belt on straight and curved conveyor systems

UHMW and HDPE cutting station surfaces

Metal detectable chain guides, custom wear plates and belt scrapers

Guide rails

UHMW belt guides

Stainless steel levelers
WHY POULTRY PRODUCERS CHOOSE SLIDEWAYS FOR CUSTOM PARTS

SHOP STANDARD POULTRY PARTS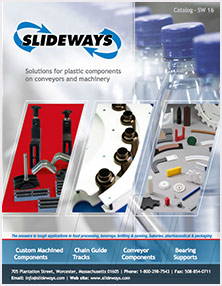 Discover how our standard and custom components have helped solve tough application challenges in a variety of industries. Download our full catalog now!