Bakeries are a market where Slideways has many years of experience. The speed of production and packaging, combined with heat make it a challenging environment. Slideways personnel review applications carefully to understand the temperature, speeds and desired outcome so that the proper materials are specified. Our field sales staff and engineers provide design assistance and material selection recommendations to help you meet your goals.
Materials:
Applications:

Chain guides, belt guides, wear strips, custom parts, manifolds, wheels, pulleys

Enhanced UHMW that reduces lubrication for chain and modular plastic belt

Metal detectable UHMW (detect plastic in food before it leaves the plant)

Higher precision guides, flite bars, manifolds, gears

Higher temp. environments, higher speed and load applications

Sprockets, structural components

Seals and high temp. bushings

Wearstrips, guides, wheels and other components in areas over 280° F
Examples of Slideways Products in Bakery Applications:
UHMW tracks for plastic chain and plastic modular belt on straight and curved conveyor systems

Blulub (Enhanced UHMW) wear strips, guide angles and wear shoes

Metal Detectable chain guides, custom wear plates and belt scrapers

Guide rails on conveyors and packaging machines

UHMW and Teflon Belt guides

Snap-on profiles found in proofers and on spiral conveyors

Chain guides in proofers, packaging machinery and on palletizers

Lubricated UHMW guides for modular plastic belts

Stainless steel levelers
WHY BAKERIES CHOOSE SLIDEWAYS FOR CUSTOM PARTS

SHOP STANDARD BAKERY PARTS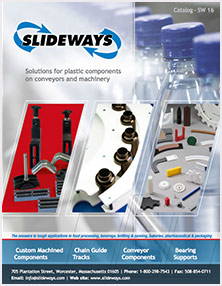 Discover how our standard and custom components have helped solve tough application challenges in a variety of industries. Download our full catalog now!