Beverage packaging is all about speed. Maintenance issue can really hurt productivity. Slideways reduces friction for you with quick lead-times, templates to help with field measurements, and an understanding of component fits and clearances so you can install your curve or guide and get back to business. Custom machined parts and stock conveyor components can quickly meet your need.
For confirming field measurements of conveyor turns, we have a program for making a cardboard template. We ship the template to you for test fit, prior to cutting it in plastic. Ensuring the curve fits when it arrives, minimizing downtime and expense.
Materials:
Applications:

Chain guides, belt guides, wear strips, custom parts, manifolds, wheels, pulleys, pin guides, cams

Enhanced UHMW that reduces lubrication for chain and modular plastic belt

Higher speed and load applications

Sprockets, cam tracks, structural components

Seals and high temp. bushings
Examples of Slideways Products in Beverage Applications
UHMW tracks for plastic chain and plastic modular belt on straight and curved conveyor systems and accumulation tables

UHMW roller chain guides on palletizer

MD-Nylon Corner tracks for 882 Tab Chains

BluLub (Enhanced UHMW) wear strips, guide angles and wear shoes

Guide rails

Guide rail brackets and cross-blocks

UHMW and Teflon belt guides

Lubricated UHMW guides for modular plastic belts

Stainless steel levelers

Watertight 2-bolt and 4-bolt flange bearings
WHY BEVERAGE MANUFACTURERS CHOOSE SLIDEWAYS FOR CUSTOM PARTS


CREATE SOLUTIONS THAT
SOLVE YOUR NEEDS

CONFIGURE CUSTOM
PRODUCTS WITH EASE
SHOP STANDARD BEVERAGE PARTS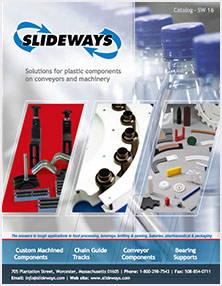 Discover how our standard and custom components have helped solve tough application challenges in a variety of industries. Download our full catalog now!